MATT:
"You never really know how much you miss something until it's gone"
This saying has been said so many times that sometimes it feels as though it has lost meaning. However, when the water main broke in downtown Kitchener today, I couldn't help but realize how important water was and how everyone uses it in their day-to-day lives. The reach of the outage was so widespread as it resulted in a bit of panic among those going to work and schools.
Something as simple as going to wash your hands couldn't be done because there was no water pressure. It is definitely something you don't think will ever happen until it does and when that happens life gets disrupted. One can't imagine even going part of the day without it, let alone possibly a prolonged period of time.
Mistakes like hitting a water main due to construction are uncommon, yet they happen and luckily it is something that the municipality is able to fix right away. But given how climate change is progressing and the lack of readiness to tackle it right now, we have to start thinking about what we can do when we do not have as much water at our disposal.
In a place like Canada, water (and potable or fresh drinking water) is definitely something that we take for granted on a daily basis. There are so many places all over the world where access to water is only available during a few hours of the day. Water can be extremely difficult to come by because its kilometers away or there has been long periods of drought.
VASU:
In fact, one such place that experiences scarcity of water is in India – especially in the state of Maharashtra (of which Mumbai is the capital). Right now the drought this year is seemingly worse than ever before. Ground water levels are very low, live water storage in reservoirs has dwindled to less than 10% and temperatures have soared (with 40 degrees Celsius being the daily average) with no rainfall relief in sight. I read a very interesting article on this water crisis and how a lot of this is almost man-made. For those of you interested in learning more about how public policies and our actions impact water conservation efforts, check out The Marathwada's Dry Story.
MATT:
Yes, I remember being in India when it was middle of the summer and how unbearable the heat was even in those conditions. Having access to water in a part of the world where it is that hot can literally be a life saver. But even today's experience with water made me realize that soon in Canada we will not just be impacted by water-related events (droughts, flooding or even extreme rainfall) for short periods of time, but the things that we take for granted, like clean drinking water, will be impacted for much longer. This is why it is important to make changes and be conscience of the choices you make now so that there will be more water to use in the future. Doing this we won't be forced to think about how we could have done things differently and been more careful with water if we had only known better.
MATT & VASU:
Since this was how our day played out today we thought much about water and how important of a resource it is in our daily lives. That is why we wanted to share some interesting tips that we follow when it comes to our own water conservation: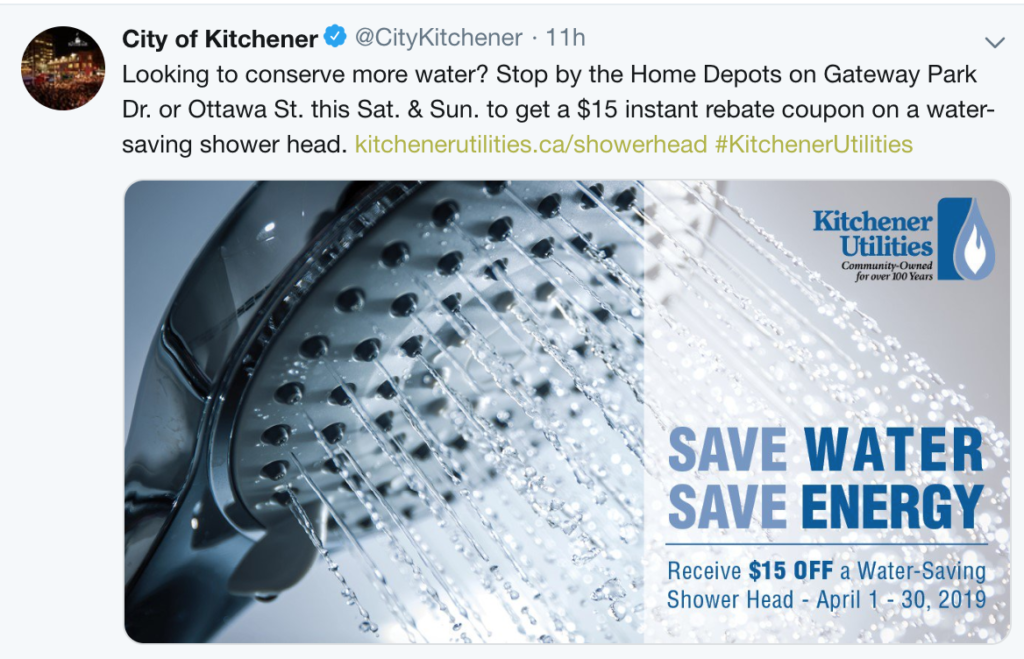 Be Prepared: Especially when it comes to water, preparedness means having spare bottled water at home incase there is an interruption in the supply or another emergency situation.
Reduce, Reuse and Recycle: The 3R's are important when it comes to water conservation. Reducing usage by either having shorter showers, reusing extra tea kettle water to water plants (after it has cooled ofcourse!), washing dishes in the sink or brushing your teeth without running the tap can all be good starting points.
Household Chores: Always do a full load of laundry (and use cold water if you want to save energy too) – it is most efficient in terms of water use. Water your plants at night time, since evaporation is the lowest then. Figure out other ways that you can conserve your water use by combining chores or making them more efficient.
Rethink Your Drinking Habits: Use tap water for drinking (it is pristine and safe here in Canada – that's a luxury most of the world doesn't get!), put a jug of water in the fridge if you want cold water in the summers, do not buy bottled water (unless absolutely necessary), carry your own bottle when you travel and use public fountains to fill them up.